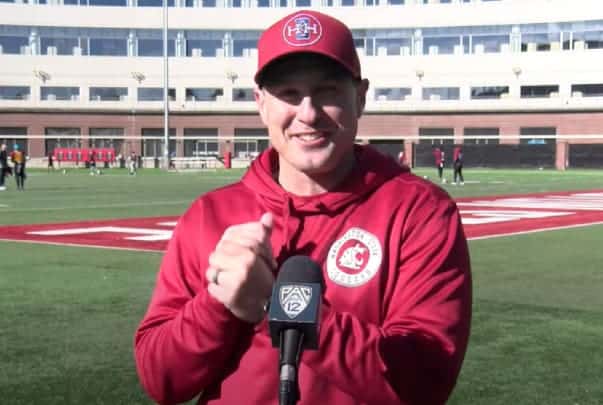 Jake Dickert, Washington State Cougars.
Although the Washington State Cougars regular season didn't end as they would have liked, WSU is still going to a bowl game. Here's where they are likely headed and who their opponent could be.
It's been a good year for the Washington State Cougars. Coming off all the turmoil that marred last season, the Cougs rebounded nicely in 2022. In Jake Dickert's first full year as the head coach, WSU won 7 games, which is good enough to get them into a December bowl game.
Cougs fans get one more chance this year to see Cameron Ward, Nakia Watson, De'Zhaun Stribling, and the rest of their favorite undergraduate players.
The Pac-12 has affiliations with several bowls.
First priority is the college football playoff. If a conference team finishes in the Top 4, they'll have a chance to play for the National Championship.
Then comes the Rose Bowl. The Pac-12 Champion goes here if they don't make the College Football Playoff. If they reach the CFP, the next highest-ranked Pac-12 team heads to Pasadena.
There are opportunities to play in other New Year's Six bowls depending on the CFP Committee rankings.
San Diego County Credit Union Holiday Bowl vs. Atlantic Coast Conference – December 28.
Tony the Tiger Sun Bowl vs. Atlantic Coast Conference – December 29, El Paso.
Valero Alamo Bowl vs. Big 12 Conference – December 29, San Antonio.
SRS Distribution Las Vegas Bowl vs. Southeastern Conference – December 18.
Jimmy Kimmel LA Bowl vs. Mountain West Conference – December 17.
What happens to Wazzu
This year, the Cougs went 7-5 overall, including 4-5 in the Pac-12. That puts them in seventh place.
As it stands, right now, the Washington State Cougars are likely headed to the Jimmy Kimmel Los Angeles Bowl. The game will take place at SoFi Stadium, the home of the Los Angeles Rams and Chargers, at noon.
Their opponent will be from the Mountain West Conference, which most predictors believe will be Boise State.
It seems a little ironic that two schools that are separated 300 miles will travel 1,200 miles to play each other. That's a good rivalry game. How many people will travel from the Pacific Northwest to see it is another question.
Even if Utah upsets USC in the Pac-12 Championship on Saturday, the fallout won't reach the seventh-place Washington State Cougars. However, if Boise State loses the Mountain West Championship Game, WSU will likely face Fresno State.
Pack your bags, Cougs fans; your team is headed to Southern California. Don't forget to bring a swimsuit for the beach.