For seven innings Saturday at Busch Stadium, nothing much happened except that the Cardinals' Dakota Hudson and the Philadelphia Phillies' Kyle Gibson were handling their various opponents and Cardinals center fielder Dylan Carlson was running down nearly everything in sight.
Hudson held the Phillies to two hits for six innings. Gibson limited the Cardinals to two hits over seven innings.
Then the strategies broke out. The Phillies chose to walk intentionally Cardinals pinch hitter Albert Pujols in the eighth inning with a runner at second and a base open and a left-hander on the mound. This set up the Phillies to have Jose Alvarado face left-handed-hitting Nolan Gorman, who flied out.
In the ninth of a still scoreless game, the Phillies' Didi Gregorius chose to bunt twice after Darick Hall opened with a double.
After failing on the first attempt, Gregorius beat the second one out as pitcher Giovanny Gallegos, having to make the play with first baseman Paul Goldschmidt playing behind the bag, fumbled the ball and then dribbled it to Goldschmidt too late at first. The Phillies had runners at first and third with nobody out and Alec Bohm's sacrifice fly scored the run.
The Cardinals caught a break in the home ninth when third baseman Bohm fired across his body — and into right-center field — after fielding Goldschmidt's tapper and the Cardinals wound up with runners at first and third and no one out.
But Nolan Arenado, last weekend's hero with a cycle and a two-homer game in back-to-back outings in Philadelphia, guessed wrong against Corey Knebel and took a knuckle curve for strike three after fouling off several fastballs. After Goldschmidt stole his 21st consecutive base, Carlson grounded out, with first baseman Rhys Hoskins freezing Juan Yepez at third as Yepez chose, correctly, not to run. And Corey Dickerson flied out.
Strategy galore. But the bottom line is that zero plus zero equals zero. Cardinals lose 1-0.
No runs Friday. No runs Saturday. One run in the first nine innings on Thursday but it didn't score on a hit. No runs on Wednesday. One run on Tuesday. No runs in the final three innings on Monday.
Eight losses in 10 games, four of them shutouts. Just a week before, the Cardinals had poleaxed Gibson for a record four consecutive home runs in the first inning and manager Oliver Marmol, while paying respect to Gibson's work, said he expected his club to do some damage against Gibson in the early innings.
Arenado put much of the blame on himself, notably his ninth-inning at-bat in which he fouled off three pitches at 2-2 and had fouled straight-back a fastball earlier in the count. Knebel had bounced two knuckle curves of the three he had thrown in the at-bat and Arenado was sitting dead red (fastball) when the count ran full.
"He took a risk throwing that pitch," said Arenado. "He would be walking the lead runner to second.
"He's got a good fastball and you've got to stay on the fastball because he was throwing it up in the zone. He threw a good curveball. I feel I blew the game right there.
"That's just how it's going. It's just not working out. I feel I took some good swings in that at-bat. The first one I fouled back was the one I had to get.
Gorman had his shot in the eighth. He had been four for 12 against left-handed pitching in brief exposures this year and he had a good swing this time, too. He said he had been working on his approach to left-handers during a session against the pitching machine in the batting cage in Atlanta and had decided to open up more in his stance.
"So, I feel pretty good against them," he said. "I've hit lefties my whole life."
Marmol said he had used Jordan Hicks for only one hitter and five pitches to get out of the seventh but didn't want Hicks to face two left-handed hitters in the eighth because his walk rate is 23% against left-handed batters who had high walk numbers themselves. So he went to Ryan Helsley in the eighth and Gallegos in the ninth.
Goldschmidt took himself to task for perhaps playing too deep on Gregorius' bunt, to where Gallegos had to field it.
"Obviously, if we could do it over again, I'd be farther in," said Goldschmidt. "But he's a lefty who pulls the ball and I didn't want to over-commit.
"Looking back, I kind of misread it. I thought it was going to die and Gio would kind of flip it to me but it rolled out more. It could have been different if I'd played a few steps in but if he hits it by me, we could have regretted it."
Gallegos, through an interpreter, said "I didn't execute the tag as he was running."
If there was good news to be siphoned from this game it is that Hudson, who had failed to get past five innings in his previous four starts, unveiled a new-look slider on which he changed his grip. He threw it some 5.5 miles an hour slower but it had 10 inches more vertical break than average.
"It forced them not to be able to sit on one pitch," said Hudson, who forced three swings and misses on the 16 sliders he threw.
"The ability to vary speeds was very big for me."
Hudson had a meeting with Marmol and pitching coach Mike Maddux in Atlanta about making some changes.
"We're trying to win," Hudson said. "I'm not trying to hand games away. I'm trying to add some consistency to the rotation and pull my weight."
Addressing the bigger picture, Arenado said, "We're just in a rut. There's really no power lately."
The Cardinals haven't homered in the past five games. In the past six, they've had only five doubles and they've scored only two runs over 48 innings, not counting extra innings in Atlanta when the rules changed.
"This is the toughest schedule I've ever been a part of as far as travel and no days off (the Cardinals are nine games through a first-half-ending, 17-game stretch) but nobody feels bad for us," said Arenado.
"We're not playing well. We've got to change it up. We've got to step up and try to finish strong."
With injuries to some key players, more young ones are getting more time, Arenado said, "They're grinding and learning the ways and it's not easy. It's hard to win like that because I've been in those shoes.
"Me, Goldy, some of the veteran players have got to continue to push and show that you can't give in and that's just what we'll do."
For Marmol, Saturday's game was "pretty frustrating. Not a good one, offensively, for sure."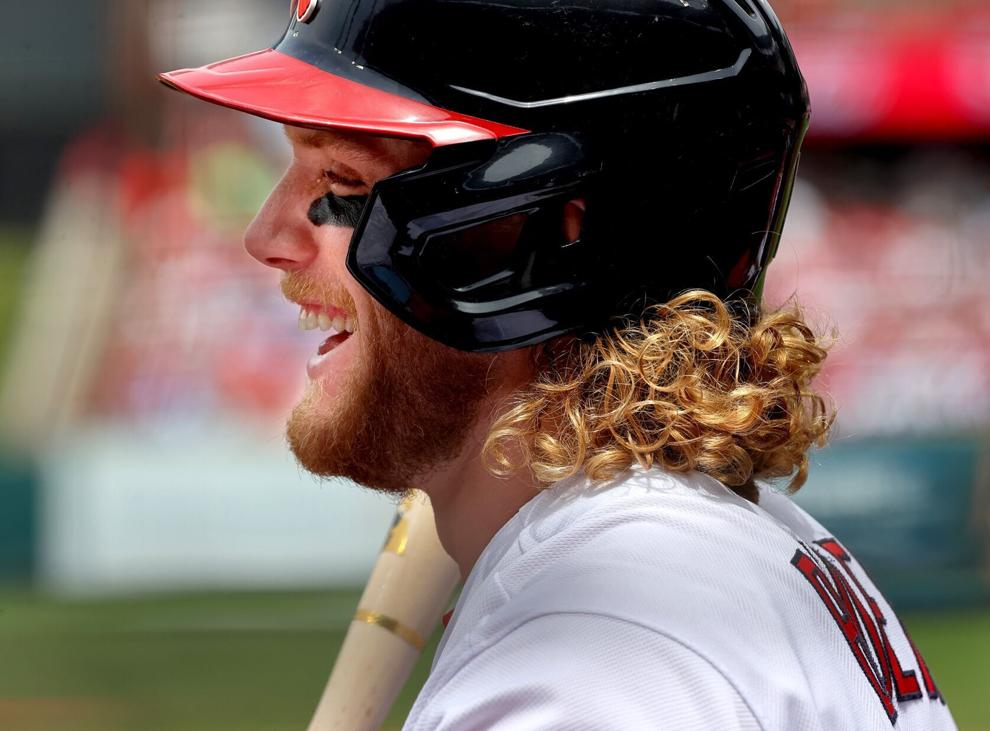 Photos: Phillies blank Cardinals for a second straight day
Phillies Cardinals Baseball
Phillies Cardinals Baseball
Phillies Cardinals Baseball
Phillies Cardinals Baseball
Phillies Cardinals Baseball
Phillies Cardinals Baseball
Phillies Cardinals Baseball
Phillies Cardinals Baseball
Phillies Cardinals Baseball
Phillies Cardinals Baseball
Phillies Cardinals Baseball
Phillies Cardinals Baseball
Phillies Cardinals Baseball
Phillies Cardinals Baseball
Phillies Cardinals Baseball
Phillies Cardinals Baseball
Phillies Cardinals Baseball